Are you taking advantage of the massive benefits of a blog to grow your business? If not, you're missing out.
Publishing a blog is one of the best ways to connect with your audience and drive long-term growth. In fact, businesses with a blog see 126% higher growth than those without one.
Check out all of the ways business blogging can help your company grow. Plus, we included a handful of blog examples we love to give you inspiration.
Key Takeaways:
If you want to grow your business, you should be blogging.
A blog offers key benefits that can help you achieve your business goals, including better leads, more traffic, and more engaged customers.
By looking at examples of successful blogs, you can see the potential of blogging for your business.
Why You Might Not Be Using a Blog To Grow Your Business
How do more leads, a steady flow of website traffic, stronger customer relationships, and higher revenue sound to you? Appealing, right?
So, why haven't you created a killer blog yet? We get it; you've got a business to run and probably think, "Who has time to write blog posts that people will want to read?"
Plus, studies show that the average blog post takes nearly four hours to write. If you factor in social media promotion, content planning, and content optimization, it's easy to see that the process is no cakewalk.
Image Source: https://www.orbitmedia.com/blog/blogging-statistics/ 
However, few things worth doing are easy, and blogging is certainly worth it. Not only that, if you don't use a blog to grow your business as part of your marketing strategy, you're essentially handing all the benefits over to your competitors who are willing to make the effort.
Take a deeper look into four ways that business blogging helps your company grow for extra motivation.
1. More Web Traffic
With consistent articles, you're going to attract more people to your business. Multiple studies find that organizations see a proportional increase in site traffic based on the number of posts they publish.
Once you reach 21 to 54 articles, you can see your traffic go up by as much as 30%. So keep publishing high-quality posts, and you'll keep raising the number of visitors.
Companies that have a blog also get almost double the links to their websites. Further, the number of domains linking back to a page is one of the most important ranking factors that Google uses when determining page rank.
Image Source: https://www.wordstream.com/blog/ws/2014/08/14/increase-traffic-to-my-website 
Also, when you optimize your blog posts for the keywords your audience is using for online searches, your website is more likely to appear on the first page of results. As a result, regularly blogging for your business keeps you in front of the people who need you most.
2. Better Quality Leads
When your business uses a blog to reach customers, you'll also be able to generate high-quality leads. How is that possible?
When users search online for solutions to their problems and your blog provides the answers they need, you've got a winning match. This perfect fit is more likely to eventually lead to a sale.
This is using a blog to grow your businesss can be so impactful. You're connecting with your target market through the process of adding value to their lives or helping them with a problem.
A helpful, relevant, high-quality blog post lets you demonstrate that your brand is the answer they're looking for. As a result, they're more likely to take the next step down the sales funnel.
This strategy is completely different from paid advertisements. With paid search, you may bring in web traffic when you run a campaign. Still, you have a lot of work to do to convince a lead your brand is right for them.
Not only is business blogging going to bring in better leads, but it's also going to generate more of them. Research from the Content Marketing Institute finds that content marketing produces three times more leads than paid search.
Image Source: https://startupbonsai.com/business-blogging-statistics/ 
3. Brand Trust and Thought Leadership
Another key benefit of blogging for your business is gaining brand trust. When you publish blog posts, you're establishing your company as an authority in your industry.
You're not simply saying you have solutions and care about solving your customers' problems. You're proving it with content.
This instills confidence in your customers. It also positions your brand as a thought leader in your industry.
U.S. consumers say authenticity is one of the top qualities that would attract them to a brand. For B2B businesses, a blog is just as important as it is for B2C.
As proof, 35% of B2B buyers spend one to three hours a week reviewing thought leadership content. Of C-suite execs, 47% said thought leadership content had a direct impact on their decision to award business.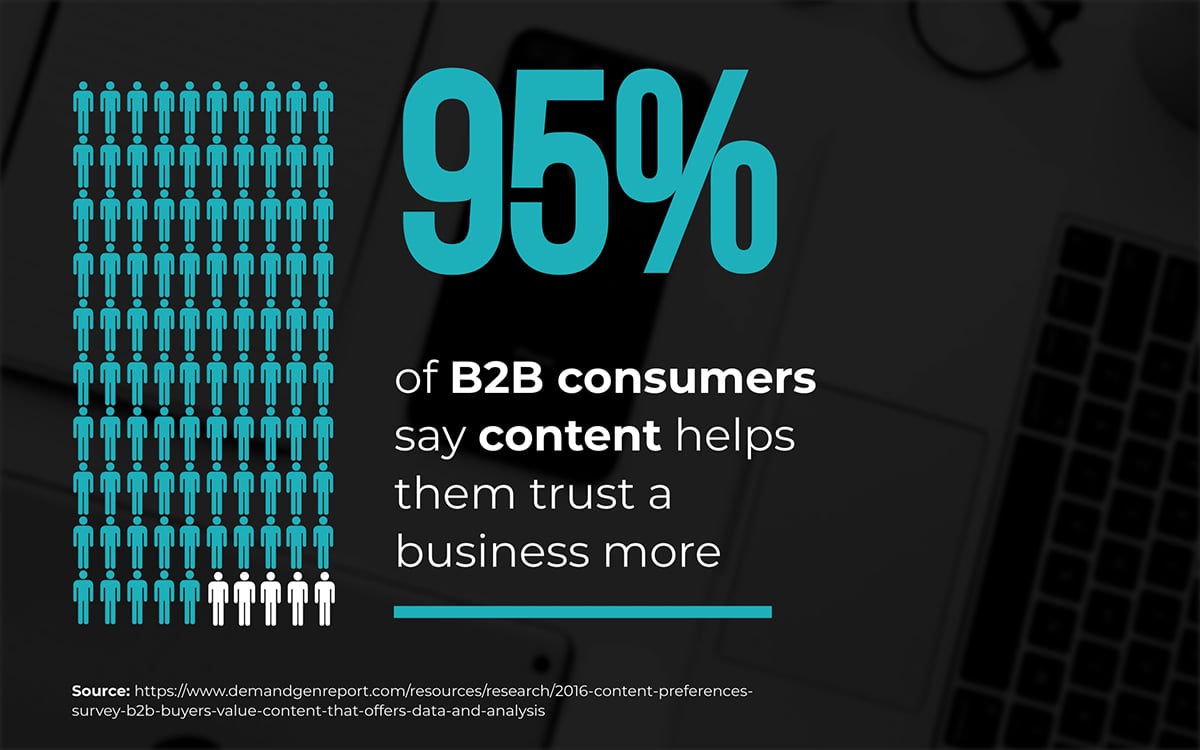 Image Source: https://visme.co/blog/content-marketing-statistics/ 
If you want to see successful thought leadership in action, check out Adobe's website. This innovative company offers an incredibly rich online library with blog posts for designers, marketers, and innovators.
Of course, you won't achieve this level of trust overnight. However, as you continue using a blog to grow your business with content that your target market finds useful, the trust barometer keeps rising.
4. Engaged Customers
The biggest benefit of business blogging is engagement. If you aren't able to keep your customers interested and your brand top-of-mind, you're losing ground with your ideal base.
With blog posts that resonate with your target buyers, you can hook them and keep them coming back. Not only that, but your blog will distinguish your business from your competitors.
It doesn't matter if you're a software company trying to be the go-to source for custom app development or a local produce delivery service competing with giant chains. Blogging for your business will ensure you stand out.
Just be sure to do sufficient research to find topics that concern your core audience and not only industry insiders like yourself. If you need help finding a treasure trove of content ideas, check out this video:
Also, here are five examples of engaging blogs we love that you can use as a source of inspiration:
Nutanix's The Forecast
GE Healthcare's Insights
Cleveland Clinic Health Essentials
DivvyHQ's Content Planning Blog
In the example of DivvyHQ, pay particular attention to the use of images and videos to add a visual element to articles and imitate these examples when blogging for your business. Also, you'll notice a generous amount of links that provide further enlightenment.
Additionally, the most successful blogs always include a clear call to action. CTAs let customers know what to do when they're ready to ask for help or learn a little bit more, which increases your conversions.
Start Blogging for Your Business To Achieve Sustainable Growth
Once you get your blog going, you'll start to see benefits that eventually translate to more sales. Even better, you'll also be able to sustain this growth as the blogs you publish today can continue to bring in traffic for years.
Still, you'll likely need guidance in figuring out how to grow a blog for your business. If so, check out our Content Builder Service.
Set up a quick consultation, and I'll send you a free PDF version of my books. Get started today and generate more traffic and leads by blogging for your business.