You want customers to love your brand.
Well, loyalty doesn't happen overnight. It starts with building a quality relationship with your consumers.
To reach "cult loyalty" status, like Apple's fanatics, customers must identify with your brand on a deeper level. And one way to achieve that is through well-developed loyalty programs. It gives your company the opportunity to gain people's trust. It has even been found that  "84% of consumers say they're more apt to stick with a brand that offers a loyalty program"
The key is to build programs so exciting, they are irresistible to your target audience. Let's dive in.
Quick Takeaways
Building lasting customer-brand relationships necessitates delivering personalized messages and creating emotional connections
Implementing tiered systems entices customers to vie for exclusive benefits
Leverage social media and interactive loyalty programs to encourage customers to share experiences and ideas
Incorporating gamification elements in loyalty programs leads to more brand loyalty
"Today, building loyalty requires brands to deliver personalized messages across channels that fully engage consumers and build emotional connections between their products and customers' needs," says, Geoff Smith, the Chief Marketing Officer at CrowdTwist.
Here are five effective strategies to build a super-addictive loyalty program:
1. Tiered Systems
Tiered loyalty programs induce customers to change their spending habits. They tease shoppers with the opportunity to be part of a select group of consumers.
This exclusivity of being ranked has really worked businesses, with "tiered program owners reported a 1.8x higher return on investment compared to programs that do not offer tiers"
Creating tiers drives people to compete. Alex McEachern, a customer loyalty specialist, explains:
"Customers are motivated to reach the next tier in your program because they want the additional rewards, but also because they desire the status that comes with that next tier. It's human nature to want to know where we stand relative to others, that's why we love striving to reach new tiers."
Here's an example from Best Buy. Their customers can qualify for three tiers. The easy-to-understand chart breaks down the potential rewards and how members can join each level.
"Present small rewards as a base offering for being a part of the program, and then encourage repeat customers by increasing the value of the rewards as the customer moves up the loyalty ladder," says, Lindsay Kolowich, content marketing at Hubspot.
Overall, these programs present customers with the opportunity to earn special privileges, which promotes engagement and builds long lasting customer-brand relationships.
The point is to entice your consumers with more rewards, and create a system that will have them coming back for more.
2. Social interaction
You've heard it before: humans are social creatures. We enjoy interacting with others.
So, take advantage of human instinct. Gather your team and brainstorm ideas on how to make social loyalty programs. How can you get people talking? Maybe an in-person event or an ongoing online campaign?
Social media is one place your team can start.
For instance, Starbucks used social media to promote customer loyalty. They ask consumers to offer ideas on how the brand can improve their services.
The program MyStarbucksIdea invites submissions. And it encourages participants to vote thumbs-up or thumbs-down on other people's ideas.
Coca-Cola also benefits from online social interaction.
"My Coke Rewards is an example of how to weave social sharing into a loyalty program. Its rewards catalog includes Facebook like, tweet, and email share functionality on every item so that members can reach out to their friends and followers with a single click," states, Michela Baxter, Loyalty Director at HelloWorld.
Don't let customers earn rewards in silence. Give them the ability to share their swag with the world. Asking for their input lets them know that they are at the center of your goals, and shows them that your brand cares.
3. Non-Monetary Points
You're competing with several other brands for your consumer's attention. Differentiate yourself from the competition. Most companies only offer loyalty points to consumers who spend money with their brand.
However, a new trend is emerging: Providing points for non-monetary activities.
Structuring your loyalty program like this builds hype around your brand and promotes community for anyone that signs up.
For example, Bulu Box rewards loyalty points to customers who complete their surveys and reviews. Customers receive this option every month with the subscription box service.
This information gives Bulu Box valuable insight on how to improve their services. Plus, it promotes brand advocacy.
Another example of this strategy is the Walgreens' Balance Rewards program. Centered around the brand's mission of living well, shoppers save money on everyday purchases, like prescriptions.

The retailer offers loyalty members points for healthy lifestyle choices, like running, tracking blood pressure, or quitting smoking.
"The philosophy behind a customer loyalty program is simple: Repeat customers are rewarded and businesses increase sales. It's a basic but powerful strategy," say Inc. contributors Jed Williams and John Swanciger.
Customers need a reason to shop with you. Make it easy. Provide points beyond purchases.
4. Unique Rewards
People are driven by exclusivity. We admire others who receive VIP treatment.
Brainstorm creative ways to reward your customers, consider special experiences or ways to continuously make your program appealing.
In the "State of Omnichannel Customer Loyalty" feature, the author wrote:
"Now more than ever, consumers want to be recognized, communicated with and rewarded based on their personal tastes and preferences. Most importantly, they want to receive exclusive, VIP access to the products and experiences they covet in exchange for their loyalty."
Build loyalty directly into your business model. This is how coffee maker Nespresso grows their customer base. Shoppers in their loyalty program Nespresso Club can personalize their order, delivery, recycling and customer-service options.
You could consider going mobile, and integrating customized push notifications into your loyalty programs.
Localytics research found "that once a push message is opened, only 15% of users who clicked ended up converting, compared to 54% of users who clicked on a segmented push message."
Segment customers by their interests, locations, and purchasing habits. Then, your team can deliver relevant and value-added communication.
Remind customers about their loyalty points. Give them an additional discount.
Panera Bread employs the surprise and delight technique. Their loyal customers aren't notified of the particular reward until it's earned.
According to the chain restaurant's website, "Just present your card every time you visit; we'll swipe it, and once we get an idea of what bakery-cafe items you prefer, we'll do our best to reward you with more surprises based on what you love."
Providing unique rewards isn't difficult. Julie Cottineau, founder and CEO of BrandTwist, suggests following these three key principles:
Encourage customers to share their own stories of your brand,

Offer deeper, broader, earlier access to your products and services, and

Think of one-of-a-kind experiences that will grab their attention.
Treat your customers like royalty. That special recognition will keep them brand loyal.
5. Gamification
Gamification in loyalty programs offers a range of benefits that can significantly impact customer engagement and brand loyalty.
By incorporating game elements and experiences into loyalty programs, businesses can tap into human psychology and create a more appealing and enjoyable customer journey.
Take brand community to the next level with progress bars, milestones, loyalty badges, and leaderboards! Here are a few reasons why gamification makes good business sense for loyalty programs:
Appeals to Hard-Wired Human Nature– gamification triggers the release of endorphins and dopamine, making customers feel rewarded and motivated to continue engaging with the loyalty program
Sets Your Loyalty Program Apart- offers a unique and engaging approach
Boosts Digital Engagement and Social Sharing- encourage customers to participate more actively and share their experiences on social media, expanding the program's reach
Increases Time and Effort Invested in Brand Experience- turns repeat purchases into habit-forming behaviors and fosters a longer-lasting brand experience
The benefits of gamified loyalty programs are not just theoretical, as they have been demonstrated through increased customer loyalty, higher engagement rates, and improved brand perception.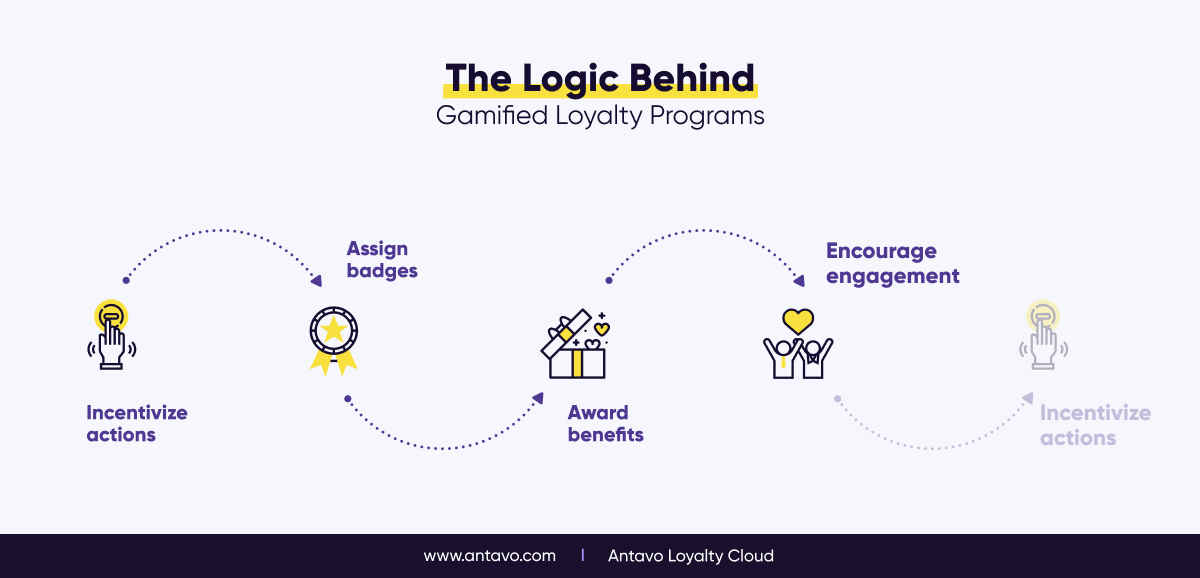 By incorporating gamification techniques, businesses can create compelling and enjoyable loyalty programs that resonate with customers and increase the likelihood of customer advocacy and retention.
Loyal for Life
Brands can't buy loyalty. It must be earned.
Build tiered systems to engage consumers. Offer loyalty points without the need to purchase. And build one-of-a-kind rewards that will surprise your customers.
Loyalty is super-addictive.
The post 5 Ways to Create Super-Addictive Loyalty Programs appeared first on Marketing Insider Group.