Guess what B2C marketers? Content marketing is for you, too. And no I'm not just talking about dreating content. Marketing with content and Content Marketing are NOT the same thing!
Most of the time, the industry sticks to talking about B2B content marketing; however, a buyer is a buyer. Today's consumer is savvy, discerning, and cares about a brand's story just as much as the product.
In response, many B2C brands are launching content marketing strategies as traditional outbound marketing tactics become less attractive. If you want to learn how to sell B2C products with content marketing, then you'll want to keep reading!
Quick Takeaways
Today's consumers digitally research products before they buy them, making the need for content even greater.
B2C brands can leverage content marketing to build brand awareness, educate customers, and foster trust.
Challenges remain in B2C content marketing, namely, developing an effective concrete strategy.
With the right strategies, B2C brands can leverage content marketing to drive revenue and growth.
B2C Marketers Find Success with Content Marketing
If you haven't adopted content marketing or are only experimenting with it, you probably have concerns about its viability. Content marketing is a long game, and results aren't necessarily instant. However, according to the Content Marketing Institute (CMI)'s B2C Content Marketing: Benchmarks, Budgets, and Trends report, B2C brands are succeeding. In rating their success compared to the year prior, 84% say it's more successful.
The same study shows the maturation of the discipline as well.
10% rate it as sophisticated.
29% rate it as mature.
Challenges and Opportunities for B2C Brands
B2C marketers meet challenges and opportunities in all facets of marketing. So, what are they?
Lack of a Content Strategy
One significant gap in B2C brands' content marketing is a content strategy. The CMI study found that only 33 percent documented it. A larger chunk—38%—say they have one, but it's not official.
This is a major miss for organizations. A content strategy is your blueprint for how efforts will translate to profits. Without a documented plan, lots of challenges can arise. It's like baking a cake with no recipe. You know you want a moist, delicious cake but have no clear vision to get there. If you want to take one step right now to sell B2C products with content marketing, then define a strategy!
Content Marketing Works When You Know Your Customer
B2C companies often have a diverse buyer pool, but customers likely have similarities. Understanding your customer's problems and needs translates to trust. Content marketing offers you a vehicle to tap into this with emotional marketing. You already know that customers make buying decisions more with their heart than their head, so leverage that in the content you produce.
Driving authentic connections translates to loyal customers. A basic premise to keep in mind to be customer-focused in content is thinking in a problem-solution model. Your customers have a problem; your product is the solution.
Framing this in content, whether it's videos, social media posts, email, or blogs, matters to the concept of "getting" your customers. However, not all companies are embracing this, as only 60% said they prioritize audience needs over sales and promotional messaging.
This data point shows there's room to grow in putting customer needs first. If you do that, you don't have to use salesy language or tactics to hook them. It's also a way to further differentiate your brand from competitors that may continue to lean on traditional advertising methods to attract customers.
B2C Buyers Are Changing
A consumer base is always evolving. There are many areas to consider, and these changes will impact your content.
Generational Considerations
As the population ages, so does your buyer demographic. There are lots of differences between Baby Boomers and millennials. If your product targets women under 40, most of those buyers are millennials now. They grew up online and have different opinions and experiences than older generations. You should always keep this in mind in creating content to influence buyers.
COVID-19's Impact on Buyer Behavior
The pandemic affected every type of buyer. McKinsey looked at consumer sentiment in the COVID economy with surprising insights. Their study revealed that 40 percent of consumers intend to keep spending more online post-COVID. This aligns with the "homebody" economy, as 64 percent of U.S. consumers are not yet resuming their normal out-of-home activities.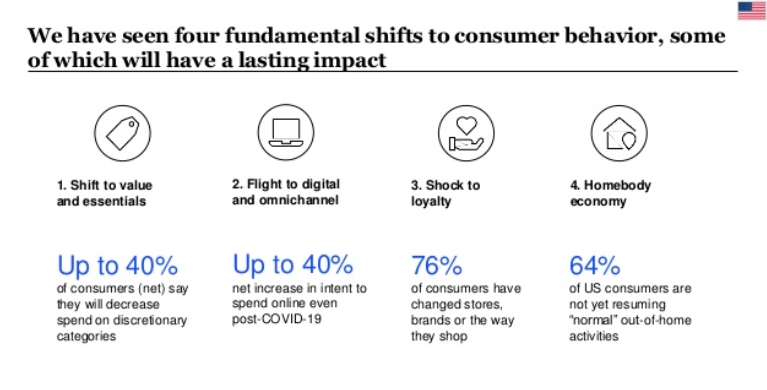 Your business has no doubt experienced eCommerce spikes. You've likely also made curbside pickup or BOPIS (buy online pick up in-store) easier and more accessible to fit changing buyer needs. This sentiment study affirms that buyer behaviors are going to remain after the pandemic ends.
As more people move to digital channels, there are many opportunities to deliver digital content that delights, informs, and persuades. Let's look at some brands doing it well for inspiration.
B2C Content Marketing Examples
NerdWallet
NerdWallet is a consumer financial website that features lots of great content that's friendly and not intimidating. Economic issues are very personal to consumers, and many struggle with understanding concepts. NerdWallet breaks down that barrier with sections on top picks, guides and tips, and calculators. It makes a scary topic more consumable and conversational.

Dove
Consumer products often take the road of producing product-centric content. The spotlight is there, rather than on the customer. Dove began using content marketing years ago to change that paradigm. They have consistently produced content about women loving and owning their skin and bodies, which is a challenge in this society.
The change in campaign direction came from their own research, illustrating that only 2 percent of women considered themselves beautiful. Dove wanted to reshape the idea of beauty, focusing content on real women and their challenges. Their real beauty campaign won over many new customers, resulting in a jump from $2.5 to $4 billion in sales in 10 years.
Lowe's
Home improvement stores are embracing content marketing, primarily through video. Lowe's does cater to businesses that need materials and tools; however, much of the time, their target is homeowners and those that love to DIY.
Their YouTube channel has over one million subscribers and boasts an impressive compilation. From room transformations to organization ideas to how-to guides on tiling and more, this content is rich in education and inspiration. They often partner with home improvement influencers or personalities, which gives their videos more character. Check out an example from their channel below:
Fundamental Best Practices to Sell B2C Products with Content Marketing
The tactics B2C brands use to create meaningful content are similar to B2B brands. These best practices apply across the board:
Make your customer the star of the content, not your brand.
Avoid trying to sell to everybody. Your buyer base may be broad, but it's important to personalize as much as possible in your content.
Lead with education in your content, not sales. An educated consumer is a better customer that will appreciate learning.
Publish content consistently and often to build authority and keep your brand top of mind.
Engage as much as possible on social media channels. Consumers look to these platforms for recommendations and help, so make sure you have a strong presence and build a community. It's the number one distribution channel and type of content produced by B2C brands. Doing this well, however, isn't always easy.
Deliver value to inboxes, not spam. Email marketing is a key channel for B2C content marketers, with 74 percent using newsletters. Inboxes are noisy and crowded. If you want to leverage this channel, you must be creative and offer something meaningful. Otherwise, they'll just ignore it.
Seek out user-generated content (UGC). If your real customers share their stories of how your product changed their life, it will be incredibly impactful. You can request this from your audience on social media, via email, or on your website. Their words and testimony will enrich your content's credibility.
Leverage SEO strategies to win the ranking game. Most consumers start with a search when they have a problem. That means you need your content to rank well organically on Google. To do this, optimize your content for relevant keywords. Optimization includes on-page and off-page tactics.
Link new content with content already performing well. This strategy is all about keeping customers engaged. At the end of one video or post, you can insert recommendations (e.g., if you like this, then check out this).
Sell B2C Products with Content Marketing and Get a Little Help from Experts
B2C companies, large and small, are investing in content marketing. By creating a strong strategy, understanding your customers, and navigating challenges, you can find success. Your main concern may be how to do it at scale. Outsourcing to a content strategy agency is a favorable model, with 55% of B2C organizations using this approach, mostly for the creation aspect.
We can help! If you are ready to get more traffic to your site with quality content published consistently, check out our Content Builder Service.
Set up a quick consultation, and I'll send you a free PDF version of my books. Get started today and generate more traffic and leads for your business.
The post How to Sell B2C Products with Content Marketing appeared first on Marketing Insider Group.